There is a world of differences between the larger and more complex plumbing systems that are fitted in commercial properties compared to the simpler, small plumbing systems that are fitted in normal, everyday domestic houses.
Because of this, it is important that managers of commercial type properties engage specialist commercial plumbing engineers to install, service and repair their equipment rather than the type of everyday plumber you would use for plumbing in a dishwasher at home for example.
our plumbing engineers are not just domestic plumbers and are instead specialist, highly skilled and experienced commercial plumbing engineers who are capable of working on the larger and more complex plumbing systems that are installed in such commercial buildings.
In addition to being technically qualified and fully experienced, we are also water industry 'approved plumbers', are 'WIAPS' approved and are on the 'Water Safe' register. This means that we are able to provide you with official certification that any work we have carry out meets the requirements of water supply companies and complies with all relevant regulations and byelaws. For full details of this, please go to www.watersafe.org.uk.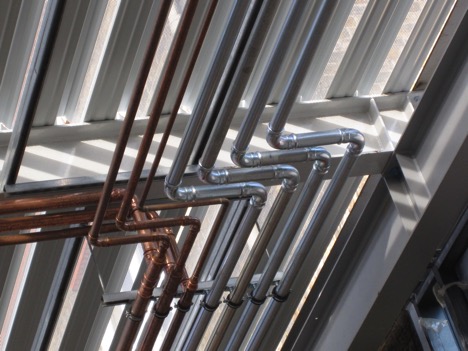 You can therefore count on us to properly look after the plumbing services at your school, church, office, large residential house with a plant room, hospital, etc.